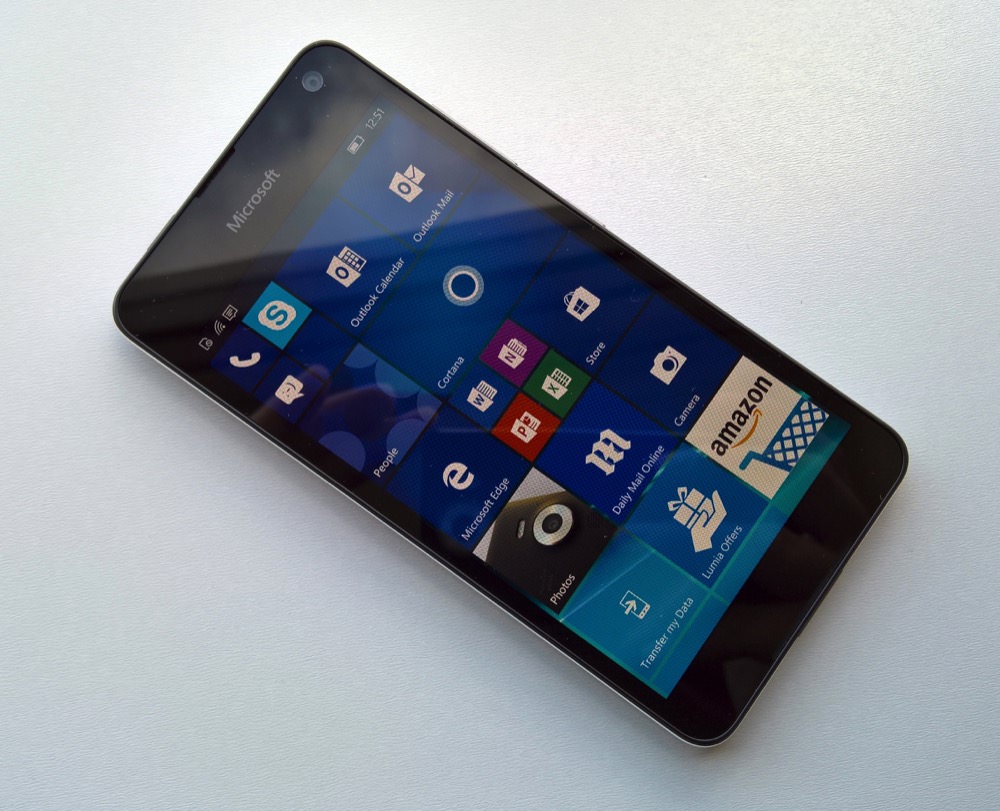 1. Be patient when setting things up
More than Android or iOS (though both have the same issue to some degree), be patient when setting up a Windows 10 Mobile phone – you've got (probably) an OS update that'll be downloading in the background, you've got the Store app (go into it to check) auto-updating all the core Windows 10 applications to their latest versions. Plus various degree of Contacts, Calendar and email syncing, depending on how far you've got into setting up. 
Add all that up and you'll need to be patient. I normally allow at least an hour for all the above to settle down and I make sure the phone's plugged into a charger too. Yes, you can use the phone while all the set-up is going on, but it'll be slow – and probably warm. So be patient and know that the phone will be much more responsive once it's finished doing all the stuff it has to do.
Top tip: the Store app itself may need to update itself, so head back into the Store manually a few times during that first hour and check the 'Downloads and Updates' pane (on the hamburger menu, top left) to make sure that all the updates have auto-started properly.
2. Keep an SD card for media if you can
Yes, yes, Windows 10 Mobile will ask you, upon inserting a microSD card*, whether you want to use it to store applications, captured photos, maps, downloads and more. Most of these are quite fine, but I'd advise on keeping applications installing to the internal storage in the phone. In theory, keeping them on the card is OK, but it's slower and you might want to remove it or change it at some stage, in which case helf your apps might disappear and you'll have a 'Wha??' moment.
So be prepared for the question and make sure that applications go into the internal storage. 
* If you haven't got a decent microSD card yet then note that they're quite cheap. I usually recommend this one on Amazon UK, £17 for 64GB and a good brand. But other brands are available, of course. Be careful in going too high in capacity as not all devices support the very largest cards!
3. Consider a Mozo replacement back
[Assuming you've just purchased a Lumia 950 or 950 XL] I've reviewed enough of these to know that they're worth a punt. The original back shells on the Lumia 950 and 950 XL in particular are flimsy and creak, plus they're utterly without character. The Mozo replacement backs (complete with NFC antenna and Qi charging coils) provide leather, wood and rubber, depending on which one you go for. They're still based on a chromed plastic rim and this can wear a bit with intensive use, but hey, the Mozo back will still look and feel a hundred times better than the Microsoft original.
Top tip: go for one of the wood ones if you can afford them – they make the phones really quite special.
Bonus tip: because of the replaceable back system, you can even have several on the go, for different occasions and use cases – it only takes five seconds to swap them over.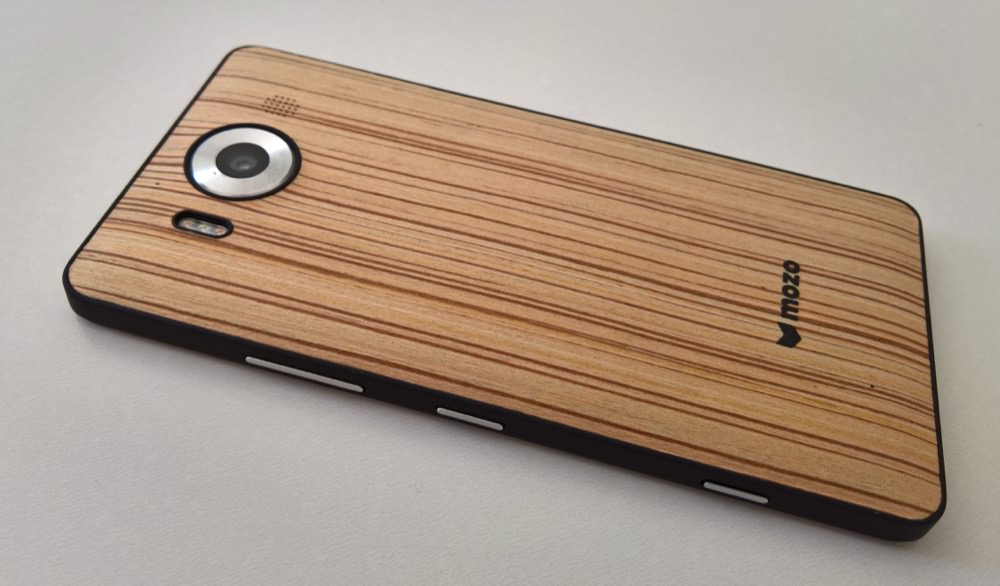 This is the 'Zebra Wood' Mozo back shell for the Lumia 950, as an example!
4. Install the AAWP Universal application
Yes, there are other good sources of Windows 10 information, but AAWP is the only one which only writes about 'mobile' exclusively, plus there's a healthy degree of curation which means that you won't get overwhelmed with noise. And, to save you booting up the Edge browser (got used to that name yet? No, neither have I!) to visit AAWP, just install the AAWP Universal application from the Store and pin it to your Start screen and you're, quite literally, good to go!
5. Improve your phone's speaker
[This applies to all the 'Lumia' devices, which have a system-wide equaliser] Phone speakers are notoriously tinny and low-fidelity, and those on most Lumias are no exception. Happily, you can do something about this by heading into Settings/Extras/Equaliser and having a play. See my tutorial for details of the settings I used, but you should be able to significantly improve the fidelity of your phone's output. Forever.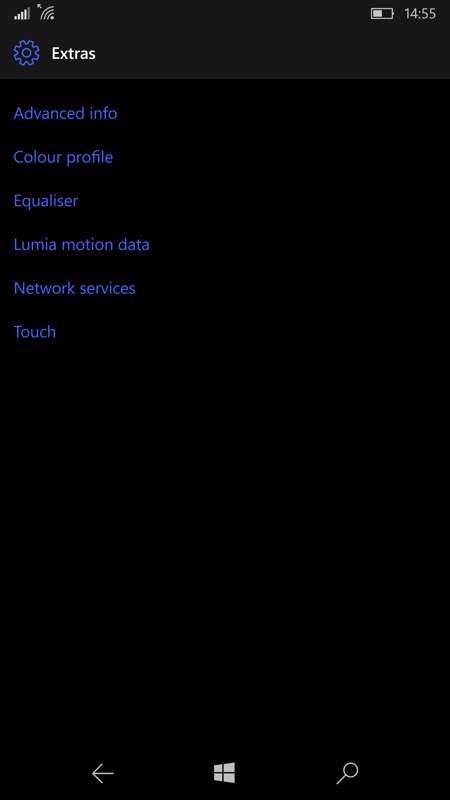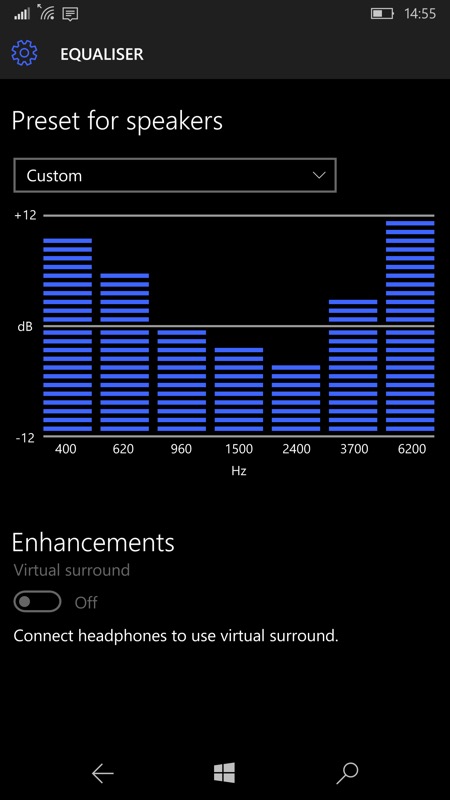 Diving into Settings/Extras on a Lumia; (right) a drastic EQ change for the Lumia 950 XL speaker!!
6. Join the 'Insiders' 'Slow' ring
This may be controversial in some circles, but Microsoft is constantly improving the core operating system and ever since the 'Slow' ring for 'Insiders' moved to a nice stable build of next year's 'Creators Update' there really is very little reason why you shouldn't register your phone in this preview program and get monthly (or so) updates and months ahead of the rest of the world. Of course, you may be a newcomer and relative beginner to Windows 10 Mobile, so let's not go crazy – avoid the 'Fast' ring and stick with 'Slow' if you please…
You can join the 'Slow' Insiders ring by going into Settings/Update & Security/Windows Insider Programme and picking this ring from the list. You'll then be guided into accepting Microsoft's terms and then updates will arrive as and when released. Enjoy!
7. Install Perfect Tube
One of the biggest omissions from Windows 10 Mobile (and Windows Phone 8.1 before it) is that Google don't supply any first party applications for it. You can get away with the lack of Gmail etc by simply adding your Google account to the phone and letting it all sync through standard protocols, but YouTube is something of a problem. It's true that the Edge browser does a good job with the YouTube web site, but I'd strongly suggest installing one of the third party YouTube clients – Perfect Tube is my favourite, so start with that, but there are others out there, including Tubecast Pro, which also has the ability to cast videos to the likes of Google's Chromecast.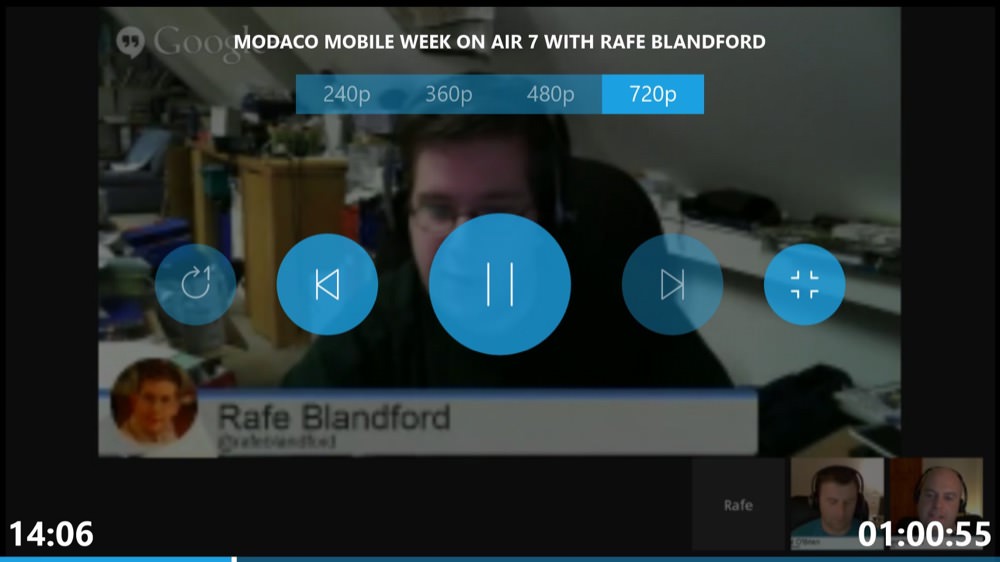 8. Download offline maps
Although Windows 10 Maps is very happy downloading maps as you need them (i.e. as you drive into a particular area), you can save bandwidth and time by simply grabbing the whole of your country 'offline' and then all Maps has to do is worry about grabbing traffic information – and, occasionally, map updates. Be patient for five minutes while your country downloads the first time round and then marvel at how speedy Windows 10 Maps is thereafter.
You can do the download by going into Settings/System/Offline Maps. Just tap on the '+' to get started.
9. Don't worry
You'll have seen scare stories in the (tech) press about old Windows Phone 8.1 apps being withdrawn – there's one almost every week. Relax though, these are the three or four year old Windows Phone versions and they wouldn't work optimally on your phone anyway. In such cases, look for either a new UWP application version or a (HTML5) web site for that service (e.g. a bank or shop or airline) that gives you access to everything via Microsoft Edge.
10. Grab a spare battery
If applicable, obviously, not every Windows Phone or Windows 10 Mobile device has a replaceable battery. But you may be surprised to know that you can still get spares, even if you have to hunt around online a little – try this eBay shop first, I've had several genuine batteries from it. Expect to pay about £15-£20, but then that's the right price. If you find one less than £10 then it's usually a fake.
Having a second battery isn't so much for when you run out of power before the end of the day, though that's a good emergency option. It's just as much so that you can swap out the original battery after a year or two of use and be back to a fresh cell with full original capacity. And your old original one can now be your 'get me home' spare in the car glove box!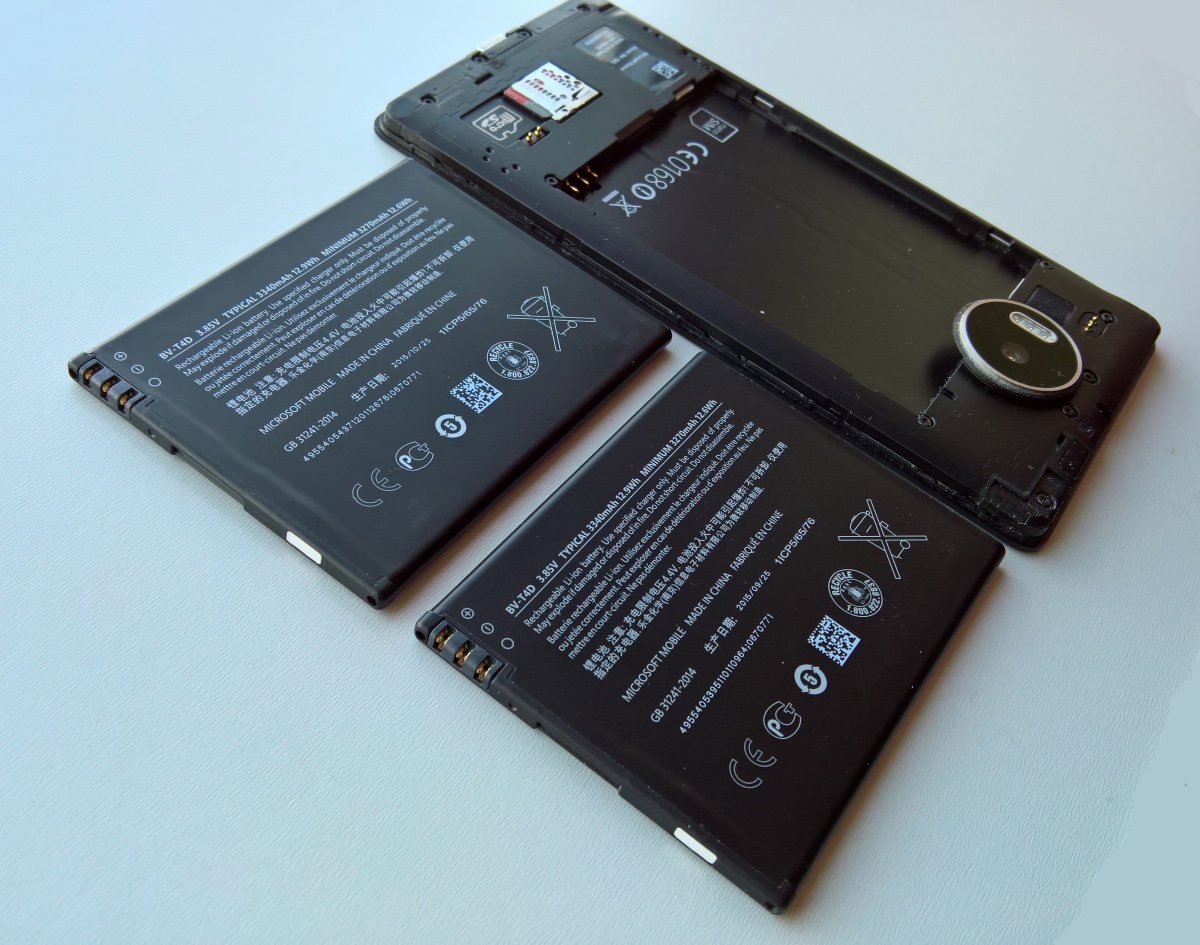 _______________
Comments welcome on any of this. Hopefully the list will prove useful to people, whether regular readers or complete newcomers.