I have a fully functioning Windows 8.1 machine, genuine, activated that works without any issues.
The problem is the fact that I cannot install Windows 10 because update fails every time; disregarding occasional failures during download process, the only error I get is at one specific point and that is in "Preparing for Installation" phase when the bar reaches around or exactly 75%. And the error code is: 80070003 (in Tech preview this error was 0x80070003). A lot of people are reporting this on Microsoft's support website and have the exact problem as I with exact results and some of them have tried exact things as I, but none worked.
Here is how it would go (and what I'd see):I would right click the Update to Windows 10 icon and click on Go To Windows Update, from there I would start Windows 10 update download.
Windows 10 download would successfully download and reach the point Preparing for installation.
During the process I would notice that a new SoftwareDistribution folder has been created (or just that Download folder has been filled – before I tried removing the entire SoftwareDistribution folder and only resorted to cleaning the Download folder).
The Download folder would be filled with Windows Update files and folders.
In the Windows partition, there would be another folder called $Windows.~BT. This folder seems to be created with the update to Windows 10.

The $Windows.~BT folder would be filled with installation files for Windows 10.

At some point during the Preparing for installation phase, it would all stop with an error, one specific error that always happens at one specific point in this phase; error 80070003.
When I would resort to Windows Update Troubleshooter, I would always get the same result, not matter what.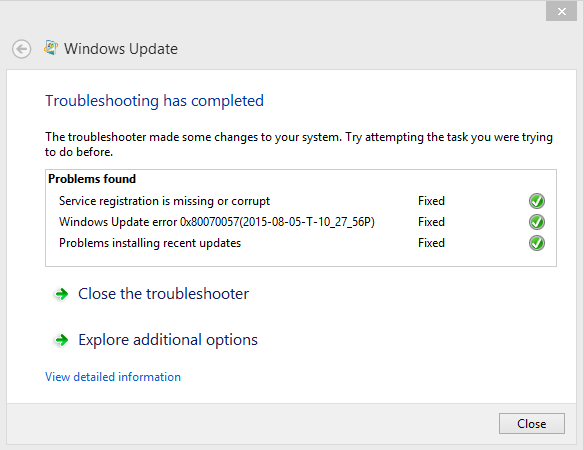 Things I tried to fix this error (but didn't work):
Running sfc /scannow in Command Prompt with elevated privileges to fix potentially corrupted or missing files
Running DISM.exe /Online /Cleanup-image /Restorehealth in Command Prompt with elevated privileges to fix potentially corrupted or missing files
Running the Windows Update Troubleshooter to fix potential Windows Update errors, but it would always display same 3 results
Removing all files from SoftwareDistribution/Download/ folder for a clean slate for Windows Update
Renaming the entire SoftwareDistribution folder so that Windows would be forced to create a fresh one
Installing other Windows 8.1 updates
Restarting my PC
Restarting the Windows Update service
So, no matter what, the error 80070003 persists and I've seen no solution for it. Some have fixed it through what I tried above, but those are rare, nevertheless, if you are facing the same error, try what I tried, and see if it works out for you. I and many others were not so lucky, and we're left here, waiting for someone to wave a magic wand and fix this.
I will also say that most of the people reporting this issue have Windows 8.1, some have Windows 7, but those who have Windows 7 the above solutions might just work, and some people have reverted to Windows 7 in order to fix such issues (not sure if this specific one), but I am definitely not in position to do that right now, even if it were definite solution, which it isn't.
I've tried to be as comprehensive as possible, if you need any other information, please, ask below, I'll give as much information as I can, especially given that there are a lot of other people facing the same issue.
Whoever can solve t his is a savior of lives. I've spent 2 days already trying to fix this somehow, but failed.